Kitchen Remodeling Services
Whether your kitchen has seen its last good days or you are looking to make additional space, KR Fritz has the solution for your remodeling needs. Our rates are competitive, and our team will complete your project on budget and on time. We draft unique, original designs for all our customers while carefully incorporating any input or ideas for the new kitchen.
The right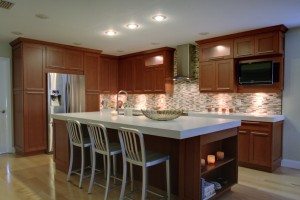 job calls for the right materials – custom cabinetry, mosaic backsplashes, lavish lighting – all of our finishing options have a wide range of choices in terms of style, color and design. Our limitless selection of quality flooring and countertop help create any type of look – rustic, modern, transitional, old world or otherwise while enhancing the value of your home. We even offer new crown moulding and base borders for a perfectly detailed finish.
You can rest assured that no matter how many decisions or various changes you wish to make, we make it easy. Ken and the team patiently and entirely support you through every step of the process. Whether chopping garden fresh vegetables or preparing Sunday morning pancakes, we're dedicated to creating an inspired kitchen you and your family will truly love for many years to come.
Contact Us
Contact KR Fritz through our web form or call 727-248-7084 to get started on your next project.